Securing the design level of automobile parts by utilizing design and analysis programs that meet various customer specifications

CATIA / MIDAS
1. Modeling 3D, Drawing2D

2. Analysis Tool
Achieving customer satisfaction by securing parts durability using reliability equipment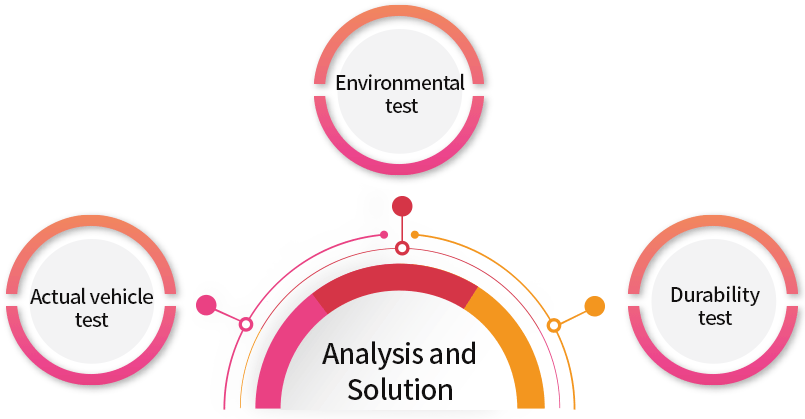 Tester
1. P-CYCLE Tester Specification: 0 to 60 CPM

2. Cleanliness tester Specification: 0.1 to 120,000 mg

3. Salt spray testing machine Specification: ASTM-B117

4. Open transformer tester Specification: 0 ~ 2 ㎏f / ㎠

5. Heat dissipation tester Specification: Oil 0.1 to 120,000 mg
Water 20 ~ 150LPM

6. Salt spray testing machine Specification: ASTM-B117
CAD / CAE
We have a wide range of CAD and CAE TOOLs for optimal design and use our experienced experience and computerized analysis to shorten your design time. We are developing products that take into consideration functionality, durability, operability, composition, manufacturability, and production cost.
1. Product Design

2. Computational Analysis

3. 2D Drawing

4. Product
Flow analysis
Computational fluid dynamics (CFD) refers to computational fluid dynamics among many computer-aided engineering (CAE) fields, The Stokes equations are discretized by the butterfly to calculate the pressure, velocity, and particle behavior of the fluid flow. Based on this calculation, By optimally designing the optimized design, you can optimize the design to see how many more than the classic method. ONEGENE Co., Ltd. uses MIDAS NFX to meet the needs of various customers through better optimization design.

Fig. Oil Cooler